In honor of St. Croix River Awareness Week, I present an article I wrote that was recently published in Minnesota Trails magazine. Enjoy!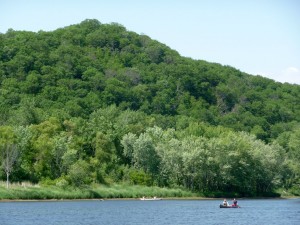 From its twisting and turning headwaters in northwestern Wisconsin to the surprisingly wild channels less than an hour's drive from the Twin Cities, a paddler could spend a lifetime exploring the St. Croix River and still find surprise without even seeing all of its 150 miles.
It is my goal to acquaint myself with this beautiful river as best as I can. I go to it in spring, summer, autumn and winter; I believe you must explore a river in all seasons to fully appreciate its essential character.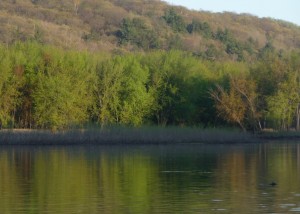 I always go for a paddle shortly after the ice breaks up, eager for the sights and sounds of migrating birds returning home, uncounted numbers singing from every bank, the faint green haze of fresh buds on the trees, and the first delicate wildflowers amongst the detritus on the forest floor.
One year, I paddled the river with my mom for Mother's Day. Fortunately, the current moved us along at a good pace, because we were frequently distracted from paddling by ornithological observation. For a while, a Bald Eagle led us downriver, flying out of trees overhead as we approached, then disappearing around the next bend, only to repeat the act once we caught up.
Summer is high season on the St. Croix, when the rental canoe businesses send flotillas downriver in jubilant cacophony. It's not hard to get away from the crowds, though, with just a little effort and adventure.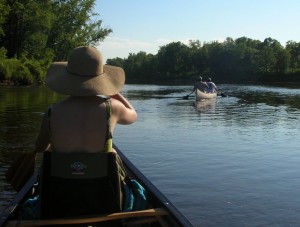 When you do find a quiet piece of the river, there is no better place to be on a hot, sunny day. My wife, the dog and I slowly drift downstream, stopping to swim where spring-fed creeks enter the river. At these points, where the cold creek water mingles with the warmer water of the river, you can find the temperature that is just right for you.
Our last paddle of the year is usually in October, when the summer crowds are difficult to imagine. The bold greens of White Pines and cedars stand in stark contrast to a brilliant palette of autumn colors on the bluffs. You might see duck hunters in flat-bottomed boats with a happy dog in the bow, or some late-season anglers, but on a warm, sunny fall day you might also have the river all to yourself.
Yet, the solitude of October is no match for that of January. Then, the river's life demands an observant eye and an appreciative spirit; if you look, your reward might be a hawk seen soaring above the trees.
Even in the deepest cold of winter, springs seep from the bluffs and spill into the river. One winter day, I snowshoed with friends through deep snow along a spring-fed creek just above where it entered the river. We marveled at the abundant green of watercress growing in a few inches of water, even though temperatures the week before had been 20 degrees below zero.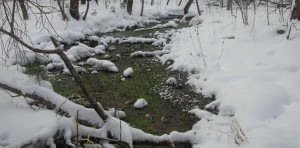 The creek ran through a campsite I knew only from warmer seasons. I had often camped or stopped there for lunch, like I reckoned people had been doing for a long time. Standing there in snowshoes and winter layers, my mind drifted to memories of muggy summer afternoons when I had dunked my head in a pool of cold, clear creek water right next to the site's picnic table.
Today, I didn't dunk my head. We sat on snowy logs and ate sandwiches as the water went on tumbling over rocks toward the frozen river.