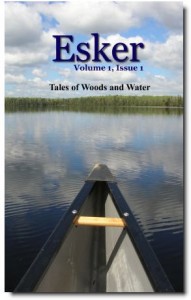 "Greg Seitz has the voice of an old friend, so inviting, so believable, that when we finish reading his work, Greg's stories have also become our stories. Though I haven't spent a day on the water with him, I wake up believing we've shared many rivers. This is the gift of accomplished storyteller." – Lené Gary
Esker is a chapbook featuring the writings of Minnesota writer Greg Seitz on paddling, fly fishing, hiking and other explorations of woods and waters.
Volume 1, Issue 1 also features poetry by Lené Gary, prose by Sam Haraldson, art by Ed Haydin, and poetry by Kate Seitz.
The chapbook is designed to fit into your back pocket or your backpack. But, at 80 pages, it has enough material to while away at least a few of these dark winter hours.
Click here to buy Esker – Volume 1.